By Phone: 802-496-2454 • Email Us
TOWN CLERK OFFICE HOURS
MONDAY – THURSDAY
9:00AM – 3:30 PM
FRIDAY
9:00AM – 3:00 PM
We are often in the office early or late and everyone is welcome any time we are here.

2019 VMCTA Fayston Treasurer and Assistant Treasurer of the Year


2011 NEMCI&A Board of Directors

2011 Vermont Municipal Clerks & Treasurers Association (VMCTA) Board of Directors

2011 Vermont Attendees to NEMCI&A
The Fayston Town Clerk's Office is please to announce the completion of back scanning, indexing, and imaging of all land records back forty years! This was a huge time committed project but were able to get it done in September 2019!
On behalf of the Board of Directors of the New England Municipal Clerks' Institute & Academy (NEMCI&A), we would like to take this opportunity to congratulate the 2011 Vermont Graduates. Congratulations go out to Alison Kaiser, Town of Stowe, and Donna Kinville, City of South Burlington. These Clerks have worked very hard for three years to graduate from the Institute, and they deserve a big round of applause!!
Also attending NEMCI&A this year from Vermont were: Institute 1 students Bobbie Brimblecombe, Town of Marshfield; and Deanna Robitaille, Town of Montgomery; Institute 2 students Priscilla Aldrich, Town of Burke; and Lucrecia Wonsor, Town of Killington; and Academy students Georgette Wolf-Ludwig, Town of Fairlee; Tracy Borst, Town of Thetford; Tammy Legacy, Town of Roxbury; Donna Kelty, Town of Barre; and Nanette Rogers, Town of Westford. Also we were fortunate enough to have Patricia McCoy, Town of Poultney as a faculty member. It was great to see you all on campus this year!!
We encourage all Clerks from Vermont to consider attending the Institute or Academy next year. For those of you who do not know, NEMCI&A is a three-year Institute for Municipal Clerks to obtain their Certified Municipal Clerk (CMC) Certification. The purpose of the Institute is to assist Clerks in developing and maintaining a high level of administrative expertise needed for the successful operation of municipal government. Factors such as extensive social and legislative changes have increased both the difficulty and importance of the Clerk's function. With increased responsibility comes a need for professional education and training to aid Clerks in acquiring necessary new skills and knowledge. In addition, NEMCI&A provides Clerks an excellent opportunity to network with each other and learn from one another. It is hard to even describe the skills, confidence and networking possibilities that you walk away with.
Scholarships will be available in 2012 from your State Association, NEACTC and NEMCI&A for any Clerk whose municipality cannot afford the tuition.
Stay tuned for the details.
We hope to see you all at NEMCI&A in July, 2012!!!
Sandra Pinsonault, CMC/CVC
Town Clerk
Town of Dorset
VMCTA Executive Board Member
NEMCI&A Executive Board Member
NEMCI&A Curriculum ChairEmail Sandra
(802) 362-1178
Patti Lewis, CVC/CVT
Town Clerk & Treasurer
Town of Fayston
VMCTA Executive Board Member
NEMCI&A Executive Board Member
NEMCI&A Evaluation ChairEmail Patti
(802) 496-2454 X21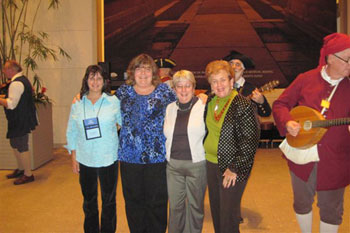 Patti Lewis attends New England Municipal Clerks Association annual conference in the fall of 2010 in Salem, MA

Patti Lewis attends Washington County Clerk's Meetings